by Jacob Bruner (Sophomore, The Ohio State University)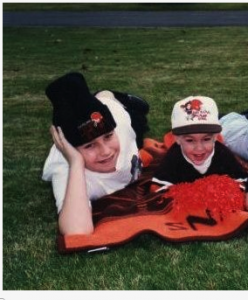 Suicide is not an easy subject to talk about, but I'm sharing my story with the hope of educating people about suicide prevention.
This story is for those who have died and for those who survive. It is dedicated to my brother Mark and my family.
It was July 2008. I walked down the steps of my brother Mark's house in University Heights. I glanced back and there he stood at the top of the stairs smiling. He yelled something dumb after me like he always did. "Later Juice," he said. My cousins and I had spent the day at Mark's house. We ate dinner then headed home just like any other day.
My brother planned to move to Florida in August, the day after his 26th birthday. He had a new job at a restaurant and he seemed happy about it, but we were worried because we didn't want him to move so far away from home.
Before he left Mom asked me to meet him for lunch. "Jake, I'm worried about your brother. Why don't you call him to see what he's up to. Maybe have lunch this week," she asked.
Mom says things like that all the time. Mark was a bit troubled in his youth and she worried about him. But I really didn't have time for lunch. I didn't get a chance to call him right away, but when I reached out to call him on Thursday, I saw that I had an old voice mail from Mark left on Tuesday. He wanted to have lunch.
On Friday everything changed. It was the worst day of my life.
I woke up to Mom walking into my room crying. I sat on my bed shaking, unable to talk or move for 30 minutes after Mom told me what happened.
"Your brother Mark took his life last night," she cried.
How am I supposed to respond to that? Why did this happen to our family? How could he have done such a thing?
I still do not know the answers to those questions. It turns out that Mark took his life in his apartment late Thursday night or early Friday morning. He used a gun he borrowed from a friend. He died in the same apartment where I last saw him four weeks earlier. Apparently, he had a fight with his girlfriend and my brother Nick who tried to stop him from getting into trouble with drugs.
It's been almost a year and a half since then, but I still remember that terrible day as if it were yesterday.
Thankfully, with the help of family and friends, I have begun to heal and now I can show my love for my brother and remember him by working to prevent suicide and working hard to be a success in life.
He has given me so much to write about. He has allowed me to grow up in a way in which I value my life and care about others in a way I never thought I could.
I'm not looking for sympathy or condolences, but I share my story in an attempt to inspire other people to share their story and spread the word about suicide prevention. That's why I helped start the Buckeye Campaign Against Suicide (BCAS). Our goal is to expand awareness on campus and offer support to others affected by suicide.
Mark has inspired me to live my life twice as well as before. I was living a life for one, but now, I live for two: one for me and one for Mark who will always be my hero.