Living Life For Two
by Jacob Bruner (Sophomore, The Ohio State University)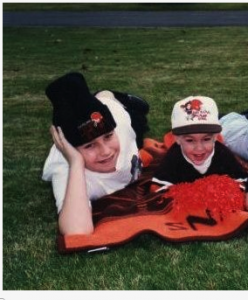 Suicide is not an easy subject to talk about, but I'm sharing my story with the hope of educating people about suicide prevention.
This story is for those who have died and for those who survive. It is dedicated to my brother Mark and my family.
It was July 2008. I walked down the steps of my brother Mark's house in University Heights. I glanced back and there he stood at the top of the stairs smiling. He yelled something dumb after me like he always did. "Later Juice," he said. My cousins and I had spent the day at Mark's house. We ate dinner then headed home just like any other day.
My brother planned to move to Florida in August, the day after his 26th birthday. He had a new job at a restaurant and he seemed happy about it, but we were worried because we didn't want him to move so far away from home.
Before he left Mom asked me to meet him for lunch. "Jake, I'm worried about your brother. Why don't you call him to see what he's up to. Maybe have lunch this week," she asked.
Mom says things like that all the time. Mark was a bit troubled in his youth and she worried about him. But I really didn't have time for lunch. I didn't get a chance to call him right away, but when I reached out to call him on Thursday, I saw that I had an old voice mail from Mark left on Tuesday. He wanted to have lunch.
On Friday everything changed. It was the worst day of my life.
I woke up to Mom walking into my room crying. I sat on my bed shaking, unable to talk or move for 30 minutes after Mom told me what happened.
"Your brother Mark took his life last night," she cried.
How am I supposed to respond to that? Why did this happen to our family? How could he have done such a thing?
I still do not know the answers to those questions. It turns out that Mark took his life in his apartment late Thursday night or early Friday morning. He used a gun he borrowed from a friend. He died in the same apartment where I last saw him four weeks earlier. Apparently, he had a fight with his girlfriend and my brother Nick who tried to stop him from getting into trouble with drugs.
It's been almost a year and a half since then, but I still remember that terrible day as if it were yesterday.
Thankfully, with the help of family and friends, I have begun to heal and now I can show my love for my brother and remember him by working to prevent suicide and working hard to be a success in life.
He has given me so much to write about. He has allowed me to grow up in a way in which I value my life and care about others in a way I never thought I could.
I'm not looking for sympathy or condolences, but I share my story in an attempt to inspire other people to share their story and spread the word about suicide prevention. That's why I helped start the Buckeye Campaign Against Suicide (BCAS). Our goal is to expand awareness on campus and offer support to others affected by suicide.
Mark has inspired me to live my life twice as well as before. I was living a life for one, but now, I live for two: one for me and one for Mark who will always be my hero.
My Story Of Hope
by Dr. Darcy Haag Granello (Director, The Ohio State University Suicide Prevention)
My suicide-survivor story in digital-story telling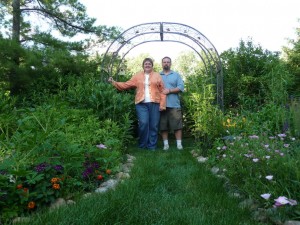 I Am The Luckiest Person I Know
Anonymous
"You are by far the most unlucky person I have ever known." friends would tell me, with the best of intentions. I wasn't quite sure what to make of that. Thanks, I think? Yet I was sure that 29 years of life's unimaginable kicks to the gut and stabs in the back had taken its toll. I was almost filled to capacity… and then, like gasoline meshing with a lit match, life sucker-punched me the hardest I had ever been hit before. Life's previous kicks and stabs were mere child's play in relation to the latest devastating blow I had received.
There was an amazingly intricate plan. Each facet carefully devised and thought-out, then pursued… yet through divine-intervention and intuitiveness of a close friend what I had whole-heartedly strived to accomplish never concluded…
Later that evening within the safe confines of a friend's home, I was called from the basement into the office. I found people within my life gathered around, to my surprise, and heard familiar voices, yet didn't see the bodies of which they came from. I soon learned a host of other people had joined in this room via conference call. And thus, the discussion began. "We care so much about you." "You need help, more help than we can give you collectively." "I am not mad- but I am hurt. I almost lost my best friend today. I cannot let that happen. Not now." "We're your friends, but we are not professionals. You need a professional to help you through this." I was overwhelmed with frustration and anger, yet I was able to set that aside and see a room full of love. A room full of friends and family who needed me; who wanted me; and who only wanted to see me thrive. Thus, I heeded their advice and immediately sought and received professional support for the hurt, pain, anger, and depression that was harnessed deep within my very core.
It wasn't easy, but the insight I gained about myself through therapy and how to manage life's sucker-punches brought a new understanding to life. A new perspective to living. A new way of seeing myself for who I really am and situations for what they really were. I grew tremendously; found myself livelier, brighter; my life of darkness became so much more colorful. The help I sought saved me from myself.
916 days after it all almost ended I am experiencing joys I never dreamt of. I still have a beautiful and loving wife. Our relationship has grown with the help we each sought separately, as well as together. So many things that were once foreign to us, we now understand. I also share delight with an amazing daughter I now get to share a life with. To think the moments I enjoy today may have never happened hurts; yet I am reminded how much stronger I am; how important and worthwhile to so many people my existence is; that life is indeed worth living. Yes, life still kicks me in the gut and throws sucker-punches to my face, twice as hard as before in some instances, but now I can handle these. Now, these do not seem so bad. I am wiser, stronger and happier with a resilience I have always had within me, but now recognize and use.
For those who know someone captivated by darkness, please do not be afraid to offer support and love. Your concern can easily make a difference in the life you touch. Take that step to support a friend or family member in need. Do not be shy to address a tough situation- you'll never regret it.
For those who see a reason to bring it all to an end, I tell you that happiness IS possible. You can experience the joy and life you've always dreamt of. Trust me, I get it. You feel as if you're falling through a bottomless pit of darkness, hurt, pain, anger, sadness. Yet, no matter how deep you've fallen into this dark, cold, lonely pit, there is light gleaming at the top. Even though you may not see it, it is there. Go for the light. It is attainable. The closer you come, the brighter it gets. Embrace the love & support of your friendships, as well as professional help. I can tell you, even when you doubt you can do it, you can make it to the light. You can be all you want to be and do all you want to do. It may all seem too far away now, but it is not impossible. You can do it.
I still get "You've gotta be the unluckiest person I know" occasionally. I chuckle inside. Frankly, I am the luckiest person I know. I share in joys and happiness that at one time came near to never being possible. Be fair, allow yourself the chance to say "I am the luckiest person I know."
After The Rain, The Sun Will Shine
Anonymous
When I was in my mid-to-late 30's, I experienced a clinical depression. I had everything in life to be happy about, but I was overwhelmed and felt like nothing in my life would ever be different and there was no end to my stress. I was a compulsive overeater and had quit smoking after 15 years and had my second baby and he did not sleep through the night for over 10 months. I was over-exercising and was in a vicious cycle that became more than I could handle. I remember having thoughts of suicide.
I had expressed my situation to a stranger who asked me if I had ever considered that I might have an eating disorder.
Strange as it may seem, I didn't look at myself that way. Now I can see that I was trying desperately to control my life through eating and exercising, and it wasn't working. Through this stranger's encouragement, I went to the Center for the Treatment of Eating Disorders and received counseling and anti-depressants. It was a rough patch in my life. But it didn't stay that way!
The good news is, I'm now 60 and have experienced much happiness in my life and continue to do so. My kids are young, happy adults and I'm moving into a new stage of life-looking at possible retirement and new horizons ahead.
After the rain, the sun will shine. Life is full of cycles. Don't be afraid to seek help.
Today, I Just Smile
Anonymous
I was 16 years old. My mother hated me, or so it seemed. She didn't allow me to date or go anywhere with friends. I accused her of having kids just so we could do her work for her. I had an after-school job, but my mother drove me to work and back. Because my social life was so restricted, I had few friends, and they didn't understand what my life was like. They all had boyfriends and went out every weekend. No one understood me. There was no reason for me to be alive.
I decided to end my life. What would I be missing? Nothing. And who would care if I were gone? Who would miss me? Not my mother. Not my teachers. My boss could find someone else to fill ice cream cones for him. So, not telling anyone, I made an unsuccessful attempt at suicide. I became even more upset and depressed over my failure.
I tried to go on as usual, but apparently my employer, Pete, noticed my continued depression and asked me what was wrong. I hadn't expressed myself to anyone to this point, because no one had ever seemed interested. But he talked with me long enough for me to see that he did care, and soon I was telling him everything that was wrong in my life. He, in turn, told me about his youth, and how a break-up with a girl when he was in college caused him to consider suicide. But he only considered it; he didn't attempt it. Instead, he finished college, found someone who was perfect for him, got married, had a beautiful family, and became a successful businessman.
For the first time I realized I wasn't the only one who had been driven to such depths of despair. Pete made me see that things could change. He was right. I went to college. I became a high school teacher. I got married and had a beautiful son. I now have five grandchildren. I can't imagine the world without those people in it!
I love teaching. I hope Pete realized what a difference he made, not only in my life, but in the lives of my son, my grandchildren, and the many students I have reached over the years. I often hear from former students who tell me how much I had helped them with their careers or what a positive influence I was on their lives. Sometimes their stories are so heartfelt that it drives me to tears. But mostly, when I think of how my life turned out and how happy I am today, I just smile.
Wait One More Day
Anonymous
When I was a freshman/sophomore in college, I thought I had nothing left to live for. I was (and still am personally) driven to excel and was devastated when I did not do well in an English class resulting in a D. I had never had such a low grade during my education and thought this was going to ruin whatever chances I had of moving forward in my career choice and in life
I became despondent and depressed to the point that I not only considered suicide but put plans into action. I was abruptly pulled up short by a person who was stern with me and asked me a question – quite loudly: "What are you trying to do; kill yourself!?!" I thought to myself, well yes; how did you know! God sent that person to me; I have no doubt about that!
That one intervention – that one question – stopped me from doing the most selfish act a person can do. I learned that if you are having a bad day, a bad week, a bad month, a bad year – to wait one more day! Wait one more day, if it doesn't get better that day, wait one more day until it does. I can testify to you that it does get better.
So, what has transpired since that time:
I transferred schools to a select private college and graduated with a BA in Economics; summa cum laude; Phi Beta Kappa; 4.0 GPA; class rank 1
Got married and had 4 children
Stayed married (to the same man) for over 34 years
Have 7 wonderful grandchildren
Sang in Carnegie Hall in NY (more than once)
Learned to be patient and wait – that one more day!!
I hope you wait – one more day – and stick around to see how wonderful life truly is!
I Never Woke Up Crying Again
Anonymous
I lost my father in July 1981. Before he died I had made plans to move to California in the fall. I went ahead with my plans. I was as happy and carefree as any young person going to live in California. I found a place to live and a job, however every day I was waking up crying. I looked in the phone book for any self help organizations, but to no avail. I found a suicide hotline and thought I am not suicidal, I just want to know why I am crying every morning. Finally I called the suicide hotline and a young man answered the phone. I began talking and told him I wasn't suicidal but just needed to talk to figure out what was going on. As I was talking, one of his other lines began ringing. He says, "Do you mind if I put you on hold?" I said, "No, go ahead." In a little bit he gets back with me and I tell him a little more. His other line rings and he was very apologetic and I said "Go ahead." While waiting for him to come back I started thinking, "how many people call suicide hot line and get put on hold?" I thought it could only happen to me and I got to laughing so hard and when he got back on I told him and we had a good laugh over it. We also finished talking about my father dying and that I needed to go through the anger phase of death. That night I had a dream about dad and got very mad at him. I never woke up crying again.